Following 2013 Moscow Fashion Week, I've undergone a personal change, in the wake of which I've started to work on a collection inspired by Japanese traditional tattoos. I've invested myself in a comprehensive study of the subject, ordering a great deal of literature from Japan and fell in love.
I've draw upon Japanese mythology on one hand and on the other hand, having been abandoned by my parents at 13 and forced to shape my world single handedly, I've felt, in a way, closely related to Yakuza ex-member personal ordeals, who use the art of tattoos to manifest their childhood hardships and roller coaster life journey. Reaching 50, I've decided to tattoo the story of my life on my body and on the clothes I create. This world of non-conformative and non-monochromatic makes me feel at home.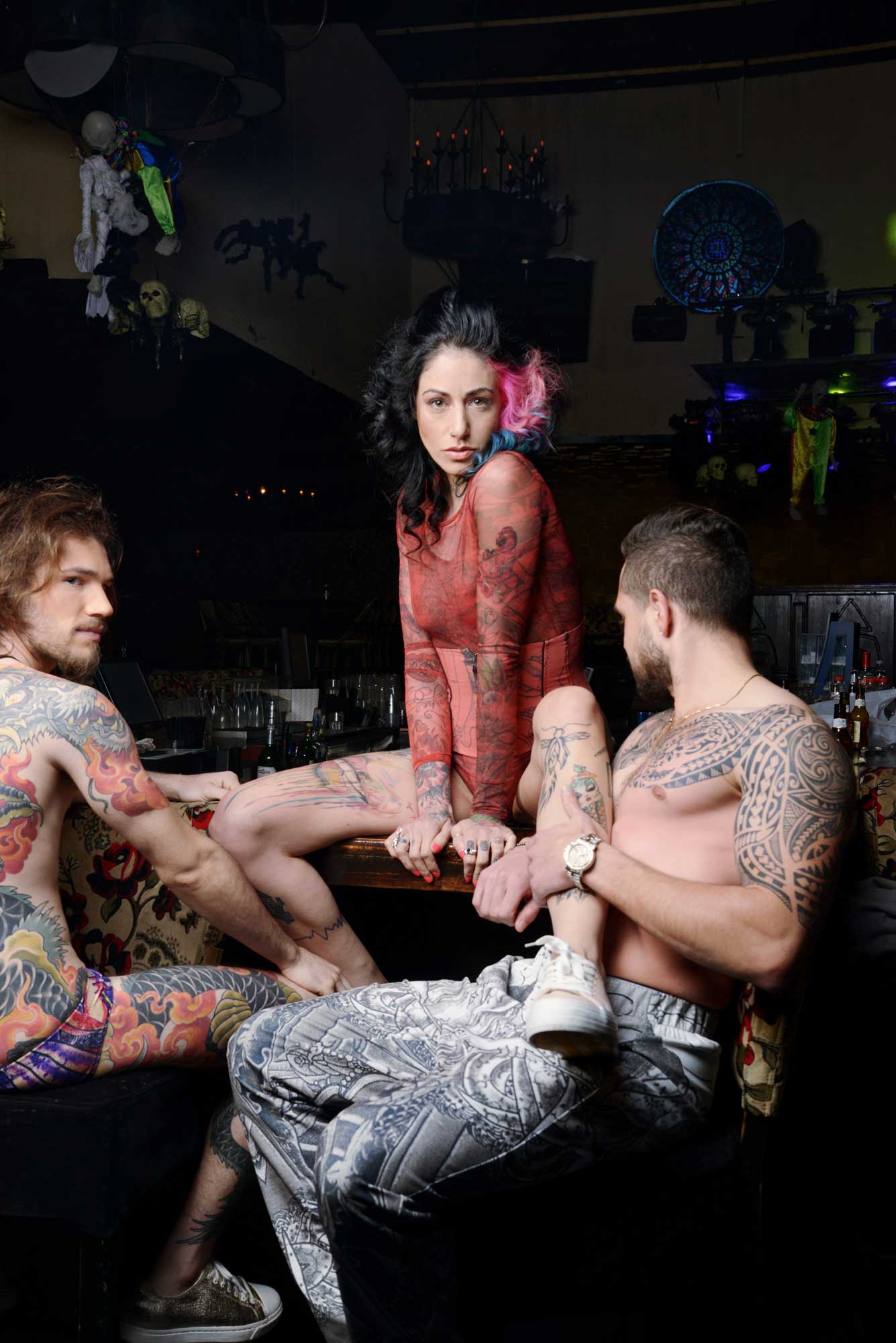 Starting in the fashion world as a Haute Couture maker, this is a big shift.
Are you leaving Haute Couture behind for good

?
The personal hand-in-hand work with my loyal clients of many years on a Haute Couture garment still means a lot to me and gives me great satisfaction. Nevertheless, we are living in an era of great change. The internet and rise of social media have altered the fashion world tremendously, making way to new innovative forms of communicating yourself to the world and in the world: sharing, inspiring, and expressing yourself as never before. I see great privilege in being able to share my art and inspire anyone who wants to express himself through my tattoo art clothes.
Do you see it as
a 2-way interaction

?
Absolutely. We are not just selling clothes. We are not just dealing with transient trend or fashionable gimmick. We are acting as a part of a community. We offer the community something more than just great fashion. A meeting place, where one can easily bond with people of similar aesthetic preferences, being part of the tattooed community or having great sense of style and appreciation for this kind of art clothes. We invite people to share their stories with us and inspire other members of our growing community.
How did you find your way into fashion
in the first place

?
As far as I can remember, I've drawn pictures and at the young age of 10, I've won an international competition for children paintings. As my father was a shipmaster of several merchant ships, I travelled with him all over the world during school holidays and have been exposed to many exquisite new colors, flavors and odors, to many exciting cultures. I've left home early on and moved to the big city, where I've started working for some local fashion houses, while also completing my degree in fashion design, after which I've took an apprenticeship in Milan, one of the world fashion capitals. At 22, I've already served as head designer of leading fashion houses with great success. At 42 I've decided to go solo and started my own brand of Haute Couture custom tailoring studio and Pret-a-Porter clothing line boutique. I had the pleasure, under my own brand, to dress up prominent figures such as Shlomit Malka, Noam Frost and Gal Gadot.
Well, I'm excited about this one…
How is wonder woman

?
This was an exciting moment to learn that Gal Gadot was chosen for the role of wonder woman. At that time, I've dressed her for the Careline perfume commercial, being the face of the brand. My main inspiration was the shape of the fragrance bottle and its golden cap. With wonder woman in mind, I've created a nude leather garment decorated with golden pieces of metal.